5 Tips To Upgrade Your Meal Plan
BREAKING NEWS: Your meal plan does NOT have to be boring in order to see results!
Whaaaattt? Mind blown.
Now, before I get started, I want to make it clear that there is nothing wrong with a simple meal plan. Sometimes it is beneficial to keep your meal plan simple to make the meal prep game a breeze. However, if you are someone who gets bored easily, these tips are for you!
Tip #1: Seasonings
It is no surprise that seasonings play a huge role in the overall flavor of your meals. They are arguably the easiest way to mix up your meal plan. There are two ways to use seasoning to your advantage.
Pre-cook seasoning
A fairly common method to seasoning food is to season your food before or while cooking. Seasonings are generally low calories, as long as you are avoiding marinades/oil-based seasonings.
Example 1: cook your ground turkey in taco seasoning for a tasty taco bowl.
Example 2: add rosemary and salt to cubed sweet potatoes before popping them into the oven.
Season as you go
Alternatively, if you are cooking three pounds of meat all at once, you may find it desirable to cook your meal/veggies with minimal seasoning, and then add seasonings as you eat them.
Example 1: add Kernel Seasoning's popcorn seasonings to your meat after heating it up in the microwave. My personal favorite is the White Cheddar flavor.
Example 2: add Trader Joe's Everything But The Bagel seasoning to your sweet potatoes, avocados, or eggs.
Tip #2: Change Your Cooking Methods
Change WHAT you cook your food in. Here are examples of different cooking methods using chicken:
Slow-cook in the crockpot
Bake in the oven
Grill
Air-fry
Change HOW you cut/prepare your food. Here are examples of different preparation methods using chicken:
Slow cook and then make shredded chicken
Baked whole chicken breast
Grill chicken breast and slice into skinny pieces
Grill chicken breast kabob-style
Cut the chicken into cubes and air-fry for chicken "nuggets"
Ground chicken patties/meatballs
Tip #3: Toppings & Sides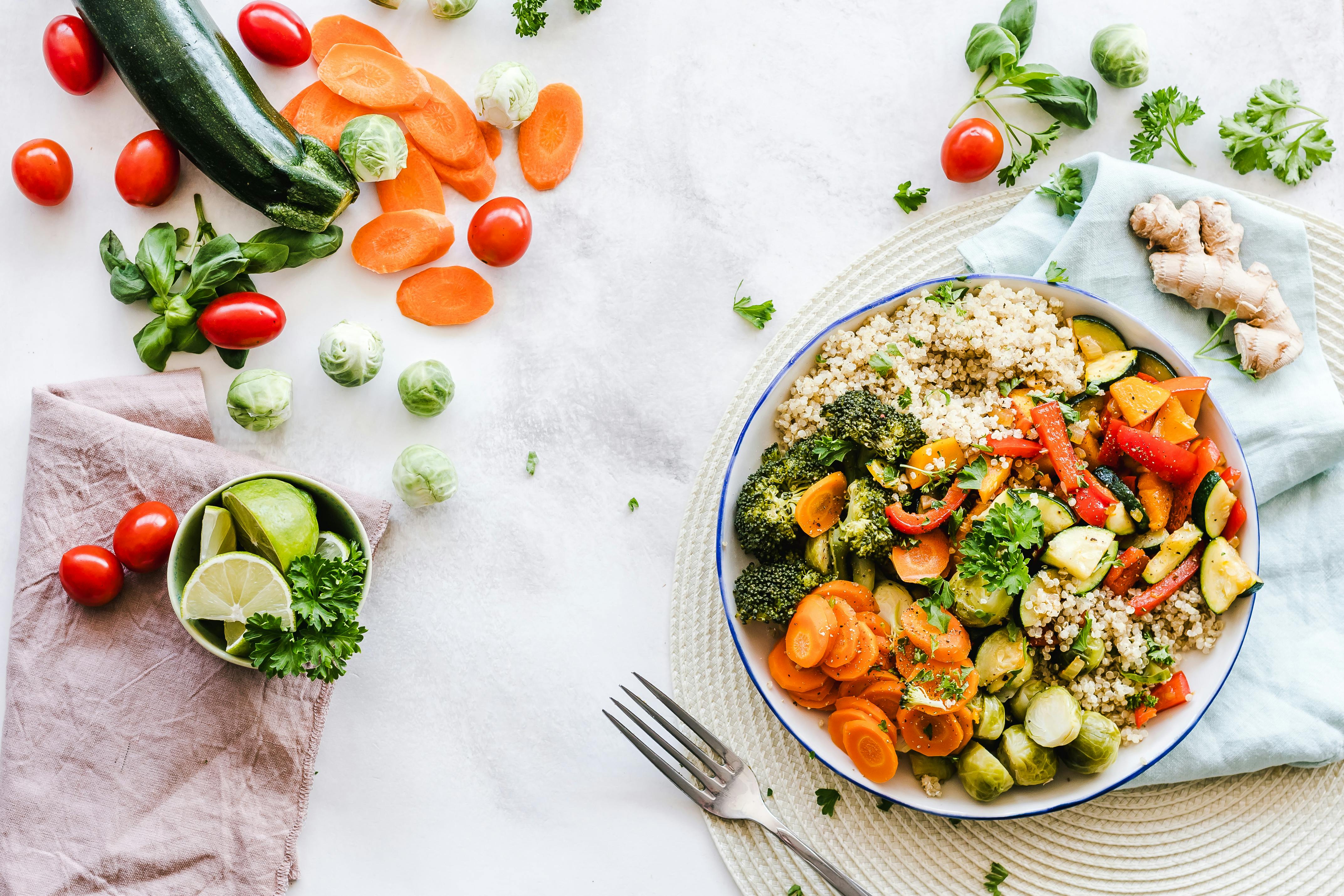 Once you have your meat cooked, its time to talk toppings and sides. For this example, let's say that you made shredded taco chicken in the crockpot. The "boring version" of this meal is chicken, rice, and avocado. Here are a few ways that your meal could be prepared to make it more interesting.
Note that macros matter, so be sure to match the macros to the original meal.
Tacos

Add fajita veggies (do not cook in oil)
Add lettuce
Add salsa
Add nacho cheddar seasoning
Swap avocado for wholly guacamole
Sub some/all of the rice for a low-carb wrap and black beans
Avocado BBQ Sandwich
Add a light amount of 2 Carb BBQ sauce to your chicken
Swap rice for a low-carb bun (Joseph's or Flat-Out are good brands)
Add mustard, cole-slaw mix, etc.
Slice the avocado and add to the sandwich
Side: pickle spear
Side: sweet potato cubes (if you have extra carbs from the rice swap)
Tip #4: Be Creative & Don't Be Lazy
A simple meal plan opens a world of opportunity for meal options. Take a basic chicken and rice "bro-meal" and turn it into whatever your heart desires (while keeping it macro-friendly).
Where to start?
Think about what type of meal you are craving, and then do the research to find a healthy alternative that fits your meal plan. Look up recipes, follow IG recipe accounts, and remember to always double-check the macros.
Here is a list of meals that can easily be made into a healthy dish:
Tacos, burritos, and bowls
Stir-fry or fried rice
Wraps or sandwiches
Chili or soups (watch serving size)
Shakes or smoothies
Protein pancakes
Protein cake
So much more!!
Don't be lazy.
Read that a few times until it sticks.
Meal prep can be very easy, but it will require some level of effort on your end. If you want to make a change, you will have to put in work, there is no way around that. This includes putting in effort into enjoying your meal plan. If you are bored with a meal, do something about it. If you are unsure about something, ask your coach for their thoughts, you are not alone in this process!
Tip #5: Find a Meal Prep Service Near You
This is the ultimate meal prep hack. I couldn't get any more simple than this.
If you are someone who simply cannot make time to meal prep/make creative dishes on your own, there is good news. No matter where you live, chances are you have a meal prep service near you. Meal prep services can be more costly then prepping on your own, but they offer a wide range of benefits.
Save time
They do all of the prepping for you. Most meal-prep companies offer bulk foods (chicken, veggies, etc.) and pre-made meals. They will even deliver right to your doorstep.
No research needed
Get delicious, macro-friendly meals without doing the research to make sure it is healthy. All meal-prep services should like the macros for each meal they sell. Some even offer the ability to change the portion size, depending on your specific needs.
Great taste
If you are not a great cook or are bad at following recipes, this is the option for you. Enjoy tasty meals without doing the cooking yourself.
Stock Up
Buy a lot of meals at once, and freeze what you do not need right away. It is a good idea to have a few meals frozen at all times, that way when you are in a pinch, you will always have a meal that can be heated up, even if you forgot to order meals for the week. Note: this applies to meal prep that you do on your own as well. Always have some back-up meals!
PowerPlate Meals, My #1 Meal Prep Service
Power Plate Meals ships nationwide, excluding Alaska & Hawaii. They also provide free shipping with a purchase of 10 meals or more in the following states: North Dakota, South Dakota, Minnesota, Nebraska, Iowa, Wisconsin, Illinois, Indiana, Ohio, Kentucky, and Michigan. If you live in Minneapolis or Fargo, ND you can pick up your meals same-day from a PowerPlate location.
Use the code: OKON when ordering for 10% off your order.
Want to understand how I use macro tracking to eat intuitively while staying in shape? Get the macro cheat sheet guide.
I worked with my team to put together a quick list of some of the most common foods so you are able to reference this as you are focused on maintaining a healthy lifestyle. Simple. Easy. Effective.